Host nation Senegal carries torch for Africa at fundraising summit as UK support for 264 million children out of school is questioned
Low-income countries have increased their commitment to tackling a "global learning crisis" as world leaders promised to spend $2.3bn on education over the next three years.
A host of dignitaries, including six African heads of state and the singer Rihanna, descended on Dakar to attend a high-level financing conference in Senegal.
But pledges fell far short of the $3bn (£2.1bn) for which the Global Partnership for Education had hoped following a warning by the World Bank that more than 260 million children worldwide are out of school, and that half of those in school are not learning.
The Senegalese president, Macky Sall, hosting the conference, pledged $2m, making the west African nation the first recipient country to contribute to the fund.
"If Senegal, with its limited needs, can mobilise that amount over three years, I bet that the international community can leverage that number and more to fund education," Sall said.
China, which is heavily invested in Africa, sent a representative who stood up in a pledging session and promised nothing.
In all, donors pledged $2.3bn, with the EU, UK, Norway, France and Denmark leading the efforts. The total represents a significant increase on the $1.3bn pledged in 2015.
Meanwhile, 53 developing countries pledged to spend $110bn on their own education systems over the next two years.
"We did more than just talk about it," Justin Trudeau posted pointedly on Twitter after doubling Canada's contribution to $180m over three years.
France, which pledged just €1m in 2015, promised €200m this time round. Emmanuel Macron, the president of France, who was co-hosting the conference, quoted Victor Hugo: "To open a school is to close a prison – we want to close lots of prisons."
But Britain was criticised for failing to increase funding after making a pledge of £225m over the next three years.
"Others need to lean in," said Penny Mordaunt, the international development secretary.
The Global Partnership for Education had called on the UK to pledge £381m – £81m more than in 2014 – to help tackle what the Department for International Development has called a "global learning crisis".
At the last replenishment conference, DfID said it would give £300m over four years – £75m a year, the same per year as the £225m pledged this time round.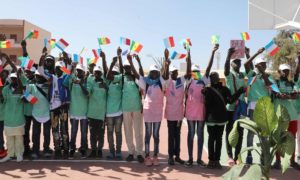 Mordaunt, however, denied that it worked out as the same amount. "It's not, it's an uplift of 50%," she said. "It was four years last time, it's three years this time. It is an increase in what we're giving.
"We spend close to a billion on education and we're going to continue to do that," she added. "It's not just bums on seats and children in school, it's the quality of teaching."
It is almost a 50% increase, if one compares the £75m a year being pledged now with the £53m a year that her department delivered. However, the conditions that meant Britain was £90m short the last time will remain in place for the next three years: a 15% cap, and linked to results and reform.
The UK's international development committee said the amount of money Mordaunt had pledged was "disappointing".
"We are very disappointed that the UK pledge falls so far short of our recommendation," said the committee's chairperson, Stephen Twigg.
"We firmly believe that without an educated population, a country cannot progress out of poverty. We believe that the British public can see the value of funding global education – a fundamental human right which underpins the improvement of lives around the world but particularly in the poorest countries."
A group of NGOs and teacher unions called Send My Friend to School said that the British pledge fell "short of the ambition necessary to tackle the growing crisis in global education", while Gayle Smith, CEO of the One Campaign, said "only a fool, an extremist or an oppressor" would not fund education.
"Leaders, please take a pause from the fires you are putting out today to prevent one tomorrow," she said.